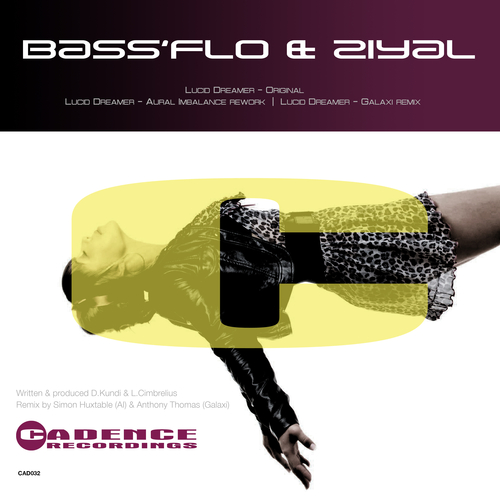 Lucid Dreamer
Available Formats
Tracks
Price
Buy
Download EP (

WAV

)
3 tracks

£

2.97

Download EP (

MP3

)
3 tracks

£

2.47

Download EP (

MP3

)
3 tracks

£

2.97

Download EP (

WAV

)
3 tracks

£

2.97

Download EP (

MP3

)
3 tracks

£

2.47

Download EP (

MP3

)
3 tracks

£

2.97

Download individual tracks
From £0.99
Description
Bass'Flo & Ziyal - Lucid Dreamer
After creating a wave of excitement with there Cadence debut Invisisble worlds & their debut LP Timeless Travellers on Advection Bass'Flo & Ziyal need no introduction to those into to the deep atmospheric side of drum n bass.

Lucid Dreamer

This one starts with a shining melody carried in a tranquil ocean of sound that gradually builds with extra nuances & sonics floating into the fray, then the big infamous fat baseline sets the groove before a seconds breather... then the trademark Bass"flo & ziyal beats set the standard for the cosmic intergalactic dance floors.
The breaks are strong detailed & and at times almost metallic & others organic - percussive, as the title suggest this is a very dreamy other worldly affair. The break down is something else…the sound of a celestial calling…pure tranquility & deepness with a constant melody that carries though the track…intense breaks cosmic vocal sounds & big pads make this another fine trip from the mighty duo….great to have them back once again on Cadence.

Lucid Dreamer - Aural Imbalance Rewire.

Aural Imbalance brings his take on things once again with his signature sound of pure atmospheric goodness using an addictive acid bassline that grooves the motion forward. rolling breaks set the rhythm & washes of lush soundscapes continue the theme of the original whilst making great use of all the original elements. This is a classic AI rewire that takes the listener once again into deepest realms of drum n space.

Lucid dreamer - Galaxi Remix

This is a first appearance on Cadence from California based producer Galaxi who also needs no introduction for those into their deep space planetary inspired Drum n bass.
Galaxi more than delivers the goods with his fast paced remix taking the track into definitive dance flloor territory, a slightly more moody atmosphere in places & a persistent rolling drum pattern keeps the tempo high with big pads & lush synth washes he manages to keep the sound of the original prominent but successfully adds his distinguished Galaxi flavour to the mix.

Reviews
Out this Monday, 11th August 2014, Bass'Flo & Ziyal conjure up a sublime slice of ethereal DnB/Jungle in 'Lucid Dreamer', delicate pads drift in a dream like manner over a tough rolling break, a voyage into the mind's eye, Aural Imbalance go for a spacey reworking with a pulsating stab and a classic jungle break retaining the dreamy elements of the original, finally Galaxi give a early morning liquid retake with lush rolling beats and a trancey feel overall, sit back and unwind, gently sway to these wonderfully chilled beats.
newurbanera.com
Tracklisting
Download EP (CAD032)
Download EP (CAD032)
Bass'Flo & Ziyal

- Lucid Dreamer

Bass'Flo & Ziyal

- Lucid Dreamer (Aural Imbalance Rework)

Bass'Flo & Ziyal

- Lucid Dreamer (Galaxi Remix)