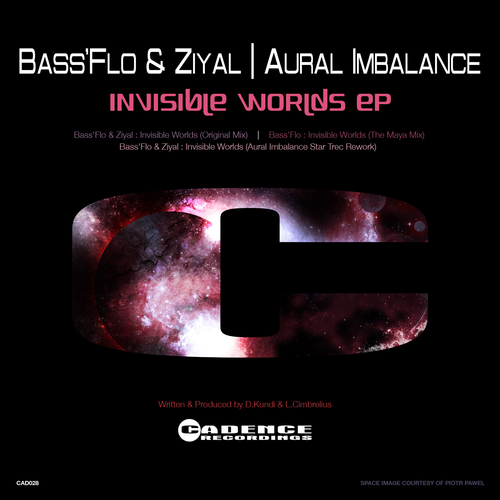 Invisible Worlds
Available Formats
Tracks
Price
Buy
Download Single (

WAV

)
3 tracks

£

2.97

Download Single (

MP3

)
3 tracks

£

2.47

Download individual tracks
From £0.99
Description
Bass'flo & Ziyal - Invisible Worlds
Cadence Recordings are pleased to Introduce D.Kundi & J Cimbrellius aka Bass Flo & Ziyal to the ever evolving label Roster. The pair are busy working on music for Film scores & having another alias Purl & Sirius. Bass Flo & Ziyal arrive in style with a fine Debut EP.
Invisible worlds is emotive deep rolling drum n bass of the highest calibre, already creating a massive buzz with their debut Album "Timeless Travellers" out now on Cosmic Origins the Mighty Duo deliver an Epic Debut on Cadence.

Original 
Invisible worlds has an intro as deep as the ocean floor making use of a beautiful heartfelt strings & intricate crisp breaks…from the off this is clear that the listener will embark on a deeper than deep musical excursion, beautifully melancholic with warm sub bass action & cosmic drifts dancing with melodies from the stars….enough of the words on this do your self a favor & put on your headphones to access the sonic soundscape of Invisible worlds.

Bass Flo's Maya mix 
This takes all the key elements & gives the infamous treatment taking you into to crisp dance floor territories with all the shine & Glory of the original. Bass Flo is currently creating waves within the scene having recently remixed Talvin Singhs "Butterfly" for Island Records & his countless remixes & production collaborations with the likes of Ulrich Schnauss Kirsty Hawkshaw & Nemanoe as Outerworld in addition to his work with Ziyal & Aural Imbalance.

Aural Imbalance Star Trec Rework 
When the Guys handed this over to Simon Huxtable aka Aural Imbalance they knew that something special was going to come out of it, such a strong original with so many beautiful elements was exactly what inspired the AI Star Trec rework.  Aural Imbalance road tested it at the Midweek Advection event in Birmingham in April & it got massive reaction from the crowd not just shouting but demanding a rewind!! It was inspiring to see so much movement on the dancefloor to such a deep piece of ambient music! AI's deep atmospheric emotive signature sound adds the final touch to an already epic EP.