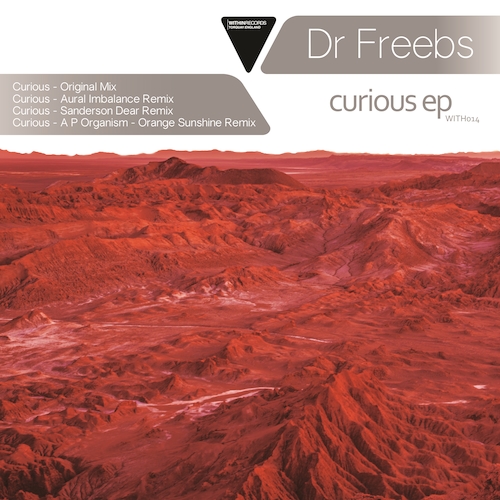 Curious
Available Formats
Tracks
Price
Buy
Download EP (

MP3

)
4 tracks

£

3.96

Download EP (

WAV

)
4 tracks

£

3.96

Download EP (

MP3

)
4 tracks

£

3.96

Download individual tracks
From £0.99
Description
Dr Freebs - Curious
Within Records return with a brand new release from Michael Gallagher aka Dr Freebs.

Dr Freebs is a long standing artist on Movementinsound with a string of original releases & remixes on Cadence Recordings , sub label Within EXP & Movementinsound.



Curious is Dr Freebs debut on Within Records and arrives in fine style after receiving positive feedback on Movementinsound Radio sessions we're buzzing to be finally getting this one out there!



Original



Dr Freebs is known for his musicality & live instrumentation, on this release he showcases his musical diversity with "Curious" a deep atmospheric tech progressive excursion with a warm bass and ever evolving soundscape made up of drifting choir like spaced out vocals and building elements of live guitar ethereal pads , precision beats the sound of helicopters reminiscent of times gone by. In typical Within Records style Curious is in no hurry prove itself with a super deep lush intro perfect for early into's or equally the after hours this is a journey Curios is breathes and evolves driven with hypnotic energy.



Aural Imbalance remix



Within Records Stalwart Simon Huxtable aka Aural Imbalance delivers his remix with his trademark super deep

Signature atmospheric sound. Another steady builder with a punchy 4/4 and lush soundscapes add an uplifting take to the mix perfect for the early morning sunrise.



Sanderson Dear Remix



Sanderson Dear is the head Honcho over at Toronto based Stasis recordings. Sanderson brings a warm fuzzy house take on Curious with a Dub techno influence on his remix. All the original elements are cleverly rearranged and add extra diversity to the release.





A P Organism - Orange Sunshine remix



Andy Pitman Aka A P organism is another long standing artist on Within records with his early Collaborations with Simon Huxtable under the Deep Space Organisms Guise. Here Andy debuts his Solo work as A P organism beautifully with a live modular rework with extra guitar and a blissfull drift through an ever evolving sonic wonderland fusing deep 4/4 and laid-back balearic influences. A P Organism brings the Curious EP to a close perfectly.


Reviews
Dr Freebs' 'Curious' is a gorgeous slice of chill with three classy House music mixes from Aural Imbalance, A P Organism & Sanderson Dear
'Curious'in original form is an 8 min plus opus of oceanic ambience with mesmeric synths, floating keys and a gradual, luscious build up of minimal beats. Aural Imbalance teases out a lengthy, oceanic intro before dropping into a sublime slice of early a.m dream house. The A P Organism Orange Sunshine adds in some subtle 4×4 beats for a deeper than deep House & broken beats, Hazy guitar strings swim around a gentle sea of warm dub. Sanderson Dear injects some Detroit inspired soundscapes into this wonderful composition. This final remix has the feel of early Mr Fingers, an early morning, mellow groove with crunchy analogue style drums and buckets of ethereal warmth and atmos.
Lifesupportmachine.