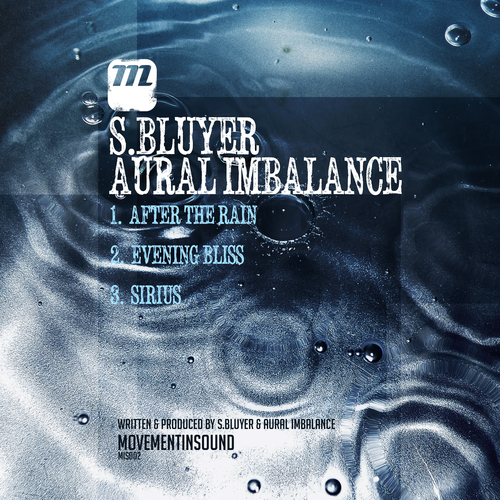 After the Rain
Available Formats
Tracks
Price
Buy
Download EP (

WAV

)
3 tracks

£

2.97

Download EP (

MP3

)
3 tracks

£

2.47

Download individual tracks
From £0.99
Description
S.Bluyer & Aural Imbalance - After the Rain
For this release Aural Imbalance collaborates with S.Bluyer a talented female DJ/producer from Russia who is now based in Moldova.
S.Bluyer creates†electronica, breaks & liquid D&B & her sonic focus is melancholic, emotional atmospheres that take you away from this world & create a fine line to another reality. S.Bluyer also recently started up her own record Label Tree Story records.

After The Rain: The title track from the EP & is both beautiful & deep to say the least, deep as the ocean floor. A low deep grooving chuggy 4/4 that is in no hurry to get anywhere to fast, perfectly happy just treading water in a beautifully dreamy sonic wonderland a wash with the atmospherics, the rumble of thunder & the sound of the heavens opening all adding visuals in the minds eye, it's clear straight away that this is a very exciting collaboration to watch out for.

Aural Imbalance is know for his deeper than deep sonic outings & emotive soundscapes
& his signature depth is taken to another territory with S.Bluyer's beautifully melancholic influences.

Evening bliss: Is a super chilled mellow drum n bass excursion made up of a Haunting vocal sound, a grooving baseline & a soundscape that keeps evolving through dreamy atmospheres, floating sonics & intricate yet subtle beats that could quite possibly be a sending out a message to the cosmos.

Sirius: The track to close the EP is pure bliss, sun drenched goodness, and more sonic wonders create an atmosphere that could quite easily be the unofficial soundtrack to an Ibiza sunset. So it has a Balearic feel †& also perhaps reminiscent of that sound of early Orbital...Just Listen & let the sound wash over you.a classic in the making.

Reviews
Aural Imbalance teams up with Russian Producer, S Bluyer for 3 haunting and captivating tracks from the deeper and more musical side of the spectrum of House, DnB & Balearic beats…
The title track is blissful 3am deep/tech house for tha moment when you're lost in the groove, 'Evening Bliss' is the DnB number from this EP, intricate and subtle, calming and warming at the same time, a real gem that stands out head and shoulders above most 'liquid' tunes, finally to chill us right down is the downtempo 'Sirius', a classic sunset moment, all in all, a very classy EP that has a broad appeal and deserves right of place in your collection.
newurbanera.com